MAVCON 17 will be in Birmingham on Thursday 16th November 2017.
As ever, the day will be a mixture of high-quality talks from experts, interactive group exercises, discussion and networking opportunities. The programme is being developed and so far we have the following elements:
David Worthington will give us an update on the Investor Confidence Project. ICP is an international programme all about project financing. It integrates a suite of energy performance protocols to create a consistent and transparent process to bridge between retrofit opportunities on one hand, and investors on the other.
A major theme this year is non-routine adjustments. Colin Grenville of Erebus Consulting will lead a scenario-based group exercise, and Nick Keegan of EEVS will explain how data from automatic meter reading systems has been used to quantify the effects of changes in static factors. This is a new development in M&V.
To complement the coverage of individual project verifications, we look at generic evaluation of particular technologies. This year Stephen Barker of Siemens will explain how the efficiency of electric motors is tested.
Conference organiser Vilnis Vesma will explain the theory behind 'backcasting', a verification technique that addresses the problem of inadequate baseline data.
A perennial topic is how to communicate the benefits of proper measurement and verification to a client who may not appreciate the value of paying for it. Tristan Oliver (Re:FIT Cymru) will discuss client training and briefing sessions, followed by a team challenge for conference delegates.
We are hoping to be able to offer a small parallel workshop on advanced statistics as an alternative to the previous item.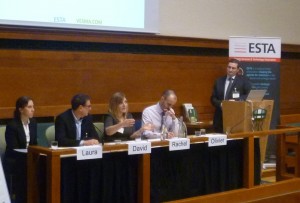 Booking
Tickets are on sale here